Free Cute Mrs. Giraffe Amigurumi Pattern | Craft Your Adorable Crochet Giraffe Companion
Welcome to the delightful world of amigurumi! How about crocheting an endearing Mrs. Giraffe as your newest crochet companion? The fantastic news is that this guide provides the Cute Mrs. Giraffe Amigurumi pattern for free! Whether you're taking your first steps in crochet or are already a seasoned pro, this pattern is designed to suit crafters of all levels, offering clear and detailed step-by-step instructions for a joyful crafting journey.
Pattern Highlights:
Materials List: Discover the materials you'll need to bring Mrs. Giraffe to life.
Basic Techniques: The pattern includes explanations of fundamental amigurumi crochet techniques, making it accessible for beginners.
Detailed Instructions: Each step is meticulously explained to ensure a smooth crafting process.
Irresistible Charm: Your finished Mrs. Giraffe will exude charm and cuteness, becoming the perfect addition to your amigurumi collection.
To learn more about the Cute Mrs. Giraffe Amigurumi pattern and embark on your crochet adventure, follow the instructions below. Craft your very own lovable Mrs. Giraffe, and let the world of amigurumi fill your life with joy and creativity!
Abbreviations:
Sc – single crochet
inc – increase,
Dec – decrease
Hdc – half crochet
CH – chain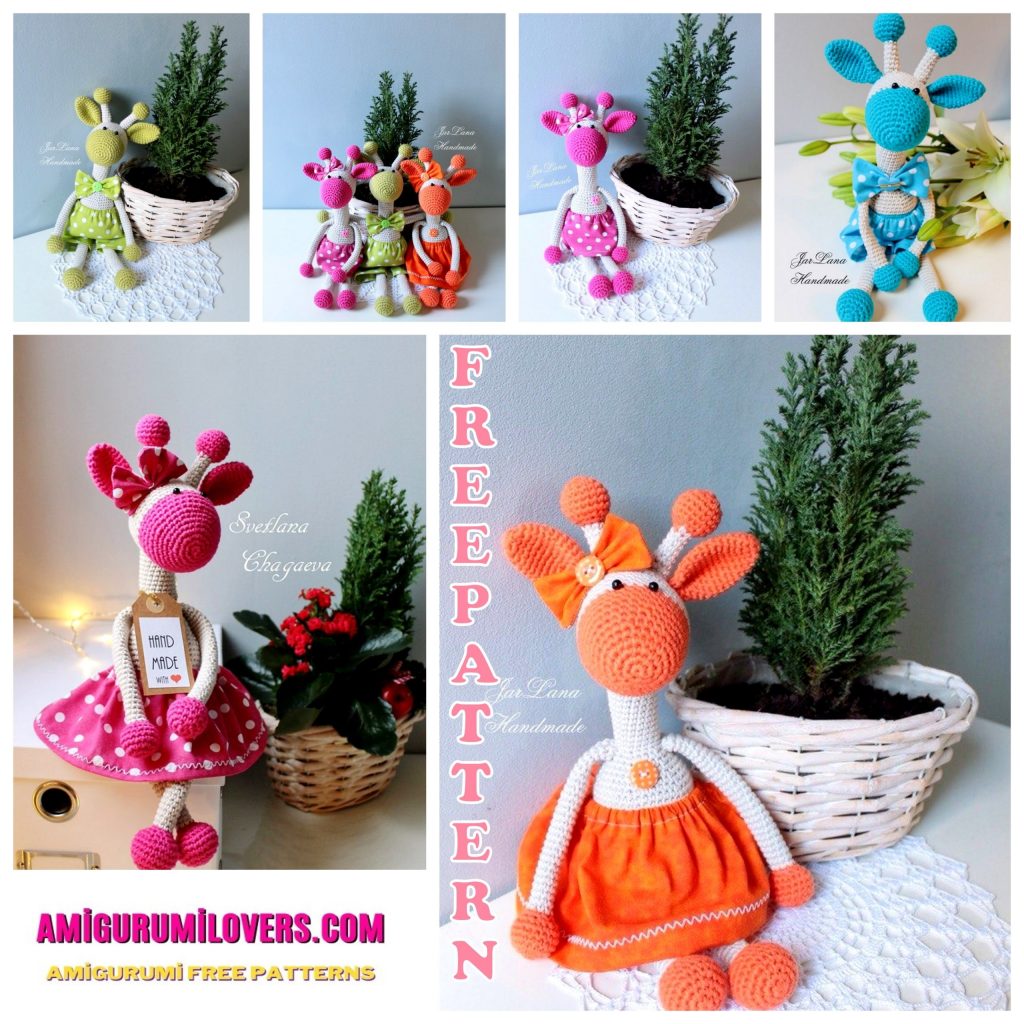 PATTERN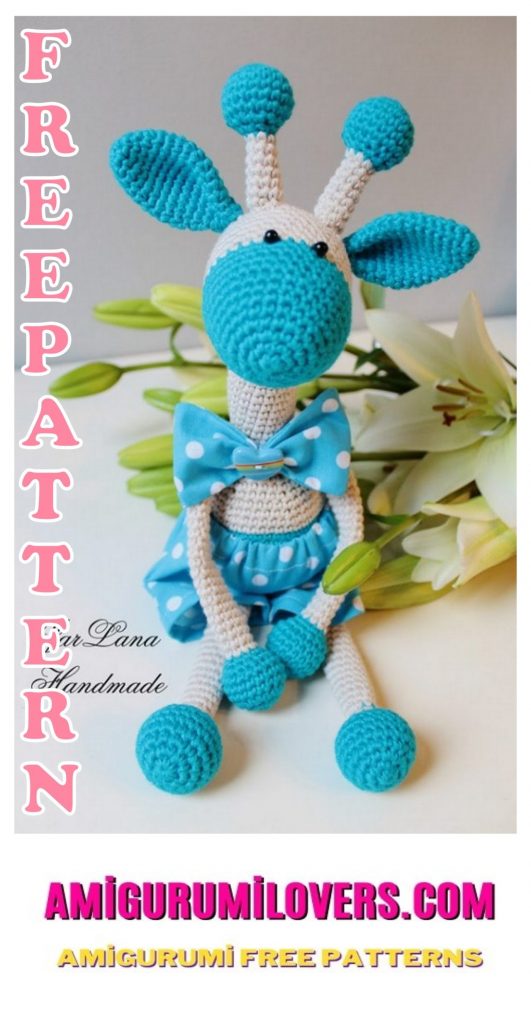 Hind legs (2pcs):
1 row – 6 sc
2 row – (inc) x6 – 12 sc
3 row – (1sc, inc) x6 – 18 sc
4 row – (2sc, inc) x6 – 24 sc
5-7 row – 24sc
8 row – (2sc, dec) – 18sc
9 row – (1sc, dec) – 12sc
10 row – (4sc, dec) – 10sc
11-35 row – 10sc (in different color)
Front legs (2pcs):
1 row – 6 sc
2 row – (inc) x6 – 12 sc
3 row – (1sc, inc) x6 – 18 sc
4-6 row – 18sc
7 row – (1sc, dec) x6 – 12sc
8 row – (4sc, dec) x2 – 10 sc (change color)
9-35 row – 10sc
Horns (2pcs):
1 row – 6 sc
2 row – (inc) x6 – 12 sc
3 row – (1sc, inc) – 18sc
4-6 row – 18sc
7 row – (1sc, dec) – 12sc
8 row – (1sc, dec) – 8sc
9-15 row – 8sc
Ears (2pcs):
1 row – 6 sc
2 row – (1sc, inc) x3 – 9 sc
3 row – (2sc, inc) x3 – 12 sc
4 row – (3sc, inc) x3 – 15 sc
5 row – 15sc
6 row – (4sc, inc) x3 – 18 sc
7 row – 18sc
8 row – (5sc, inc) x3 – 21 sc
9-10 row – 21sc
11 row – (5sc, dec) x3 – 18 sc
12 row – 18sc
13 row – (4sc, dec) x3 – 15 sc
14 row – (3sc, dec) x3 – 12 sc
15 row – (2sc, dec) x3 – 9 sc
Head:
1 row – 6 sc
2 row – (inc) x6 – 12 sc
3 row – (1sc, inc) x6 – 18 sc
4 row – (2sc, inc) x6 – 24 sc
5 row – 24 sc
6 row – (3sc, inc) x6 – 30 sc
7 row – 30 sc
8 row – (4sc, inc) x6 – 36 sc
9-12 row – 36 sc
13-17 row – 36 sc (in different color)
18 row – (5sc, inc) x6 – 42 sc
19 row – 42 sc
20 row – (5sc, dec) x6 – 36 sc
21 row – (4sc, dec) x6 – 30 sc
22 row – (3sc, dec) x6 – 24 sc
23 row – (2sc, dec) x6 – 18 sc
24 row – (1sc, dec) x6 – 12 sc
25 row – (dec) x6 – 6 sc
body
1 row – 6 sc
2 row – (inc) x6 – 12 sc
3 row – (1sc, inc) x6 – 18 sc
4 row – (2sc, inc) x6 – 24 sc
5 row – (3sc, inc) x6 – 30 sc
6 row – (4sc, inc) x6 – 36 sc
7 row – (5sc, inc) x6 – 42 sc
8 row – (6sc, inc) x6 – 48 sc
9-15 row – 48 sc
16-19 row – (6 sc, dec) – 42 (on the 18 row we change the color)
20 row – (5sc, dec) – 36 sc
21 row – 36 sc
22 row – (4sc, dec) – 30 sc
23 row – 30 sc
24 row – (3sc, dec) – 24 sc
25 row – 24 sc
26 row – (2 sc, dec) – 18
27-40 row – 18sc