Take Flight with the Amigurumi Flyer Bear Free Crochet Pattern
Prepare for a high-flying crochet adventure with our Amigurumi Flyer Bear Free Crochet Pattern. This delightful project is designed to capture the hearts of both experienced crocheters seeking a new challenge and beginners eager to embark on their crafting journey. Join us as we guide you through the process of crafting your very own aviator bear.
The Amigurumi Flyer Bear Free Crochet Pattern invites you to craft a charming bear ready to take to the skies. This pattern comes complete with detailed, beginner-friendly instructions and pro tips to help you create your crochet masterpiece. Whether you're looking to add an adorable aviator bear to your collection, give a unique handmade gift to a loved one, or simply enjoy the therapeutic art of crocheting, this project offers it all. From the aviator cap to the tiny flight goggles, your finished amigurumi bear will be ready for adventure. Take off on your crochet journey today and watch your creativity soar!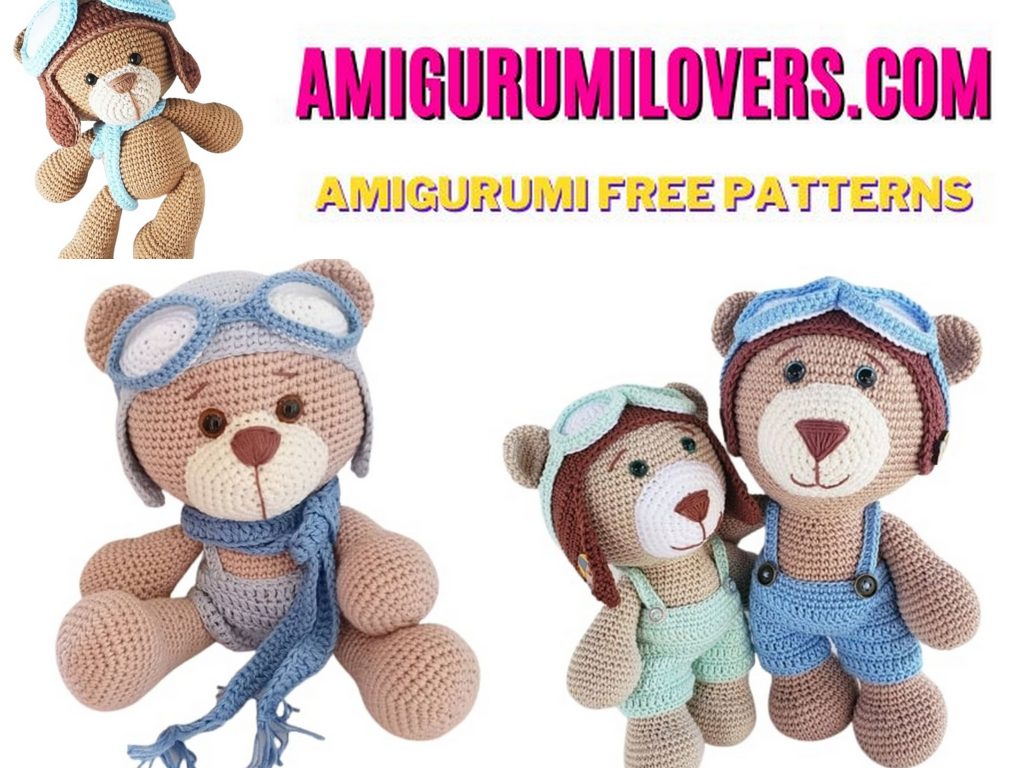 PATTERN
Head (beige)
1) 6 SC İNTO MAGİC RİNG (06)
2) İNC (12)
3) 1 SC, İNC (18)
4) 2 SC, İNC (24)
5) 3 SC, İNC (30)
6) 4 SC, İNC (36)
7) 5 SC, İNC (42)
8) 6 SC, İNC (48)
9) 7 SC, İNC (54)
10) 8 SC, İNC (60)
11) 9 SC, İNC (66)
12) 10 SC, İNC (72)
13 UP TO 25) WORKING IN SC THROUGHOUT CAREER (72)
* PLACING EYES BETWEEN CAREERS 16 AND 17 WITH 8 DIST PTS (12 MM CIRCLE)
26) 10 SC, DEC (66)
27) 9 SC, DEC (60)
28) 8 SC, DEC (54)
29) 7 SC, DEC (48)
30) 6 SC, DEC (42)
31) 5 SC, DEC (36)
32) 4 SC, DEC (30)
33) 3 SC, DEC (24)
34) 2 SC, DEC (18)
35) 1 SC, DEC (12)
36) 6 DEC FOLLOWED (06) CLOSE
Arms (beige)
1) 6 SC İNTO MAGİC RİNG (06)
2) İNC (12)
3) 1 SC, İNC (18)
4) 2 SC, İNC (24)
5) 3 SC, İNC (30)
6 UP TO 8) WORKING IN SC THROUGHOUT CAREER (30)
9) 3 DEC, 9 SC, 3 DEC, 9 SC (24)
10) 2 SC, DEC (18)
11 UP TO 25) WORKING IN SC THROUGHOUT CAREER (18) CLOSE IN SC
Brown Nose
1) 6 SC İNTO MAGİC RİNG (06)
2) İNC (12)
3) WORKING IN SC IN ANY CAREER (12)
Feet / Leg (beige)
1) 6 SC İNTO MAGİC RİNG (06)
2) İNC (12)
3) 1 SC, İNC (18)
4) 2 SC, İNC (24)
5) 3 SC, İNC (30
6) 4 SC, İNC (36)
7) 5 SC, İNC (42)
8 UNTIL 11) WORKING IN SC THROUGHOUT CAREER (42)
12) 5 SC, DEC (36)
13) 6 DEC, 24 SC (30)
14) 3 DEC, 24 SC (27)
15) 1 DEC TRIPLA, 24 SC (25)
16 TO 27) WORKING IN SC EVERY CAREER (25)
28) 3 SC, DEC (20)
29) 2 SC, DEC (15)
30) 1 SC, DEC (10)
31) 5DEC FOLLOWED (05) CLOSE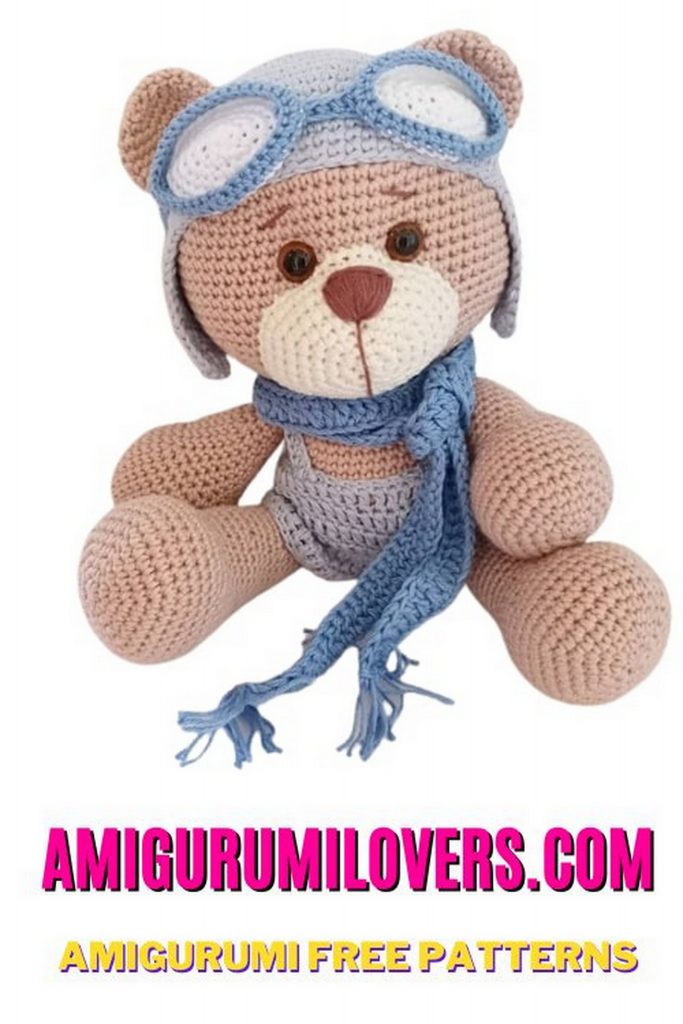 Ears (beige)
1) 6 SC İNTO MAGİC RİNG (06)
2) İNC (12)
3) 1 SC, İNC (18)
4) 2 SC, İNC (24)
5) 3 SC, İNC (30)
6 UP TO 8) WORKING IN SC THROUGHOUT CAREER (30)
FLATTEN. WAIT FOR THE CAP TO THEN TO SEW
Body (Beige)
1) 6 SC İNTO MAGİC RİNG (06)
2) İNC (12)
3) 1SC, İNC (18)
4) 2 SC, İNC (24)
5) 3 SC, İNC (30)
6) 4 SC, İNC (36)
7) 5 SC, İNC (42)
8) 6 SC, İNC (48)
9) 7 SC, İNC (54)
10) 8 SC, İNC (60)
11 TO 21) WORKING IN SC IN ANY CAREER (60)
22) 8 SC, DEC (54)
23) WORKING IN SC EVERY CAREER (54)
24) 7 SC, DEC (48)
25) WORKING IN SC EVERY CAREER (48)
26) 6 SC, DEC (42)
27) WORKING IN SC IN ANY CAREER (42)
28) 5 SC, DEC (36)
29) WORKING IN SC EVERY CAREER (36)
30) 4 SC, DEC (30)
31 UNTIL 33) WORKING IN SC IN TODACARREIRA (30)
Whisker (beige)
1) 6 SC İNTO MAGİC RİNG (06)
2) İNC (12)
3) 1 SC, İNC (18)
4) 2 SC, İNC (24)
5) 3 SC, İNC (30)
6) 4 SC, İNC (36)
7) 5 SC, İNC (42)
8) WORKING IN SC EVERY CAREER (42)
Glasses (lens) two
1) 6 SC İNTO MAGİC RİNG (06)
2) İNC (12)
3) 1 SC, İNC (18)
4) 2 SC, İNC (24)
3SCX TO CLOSE
WORKING AROUND EACH LENS WITH
BROWN
1) 3 SC, İNC (30)
2) WORKING IN SC BY THE REAR HANDLE (30)
JOIN THE LENSES IN SC. AT THE END OF THE UNION MAKE A DEC
Strap glasses
DO 6 RUN AND WORK ROUND TRIP IN MPA UNTIL HEAD SIZE SEW ON LENS SIDE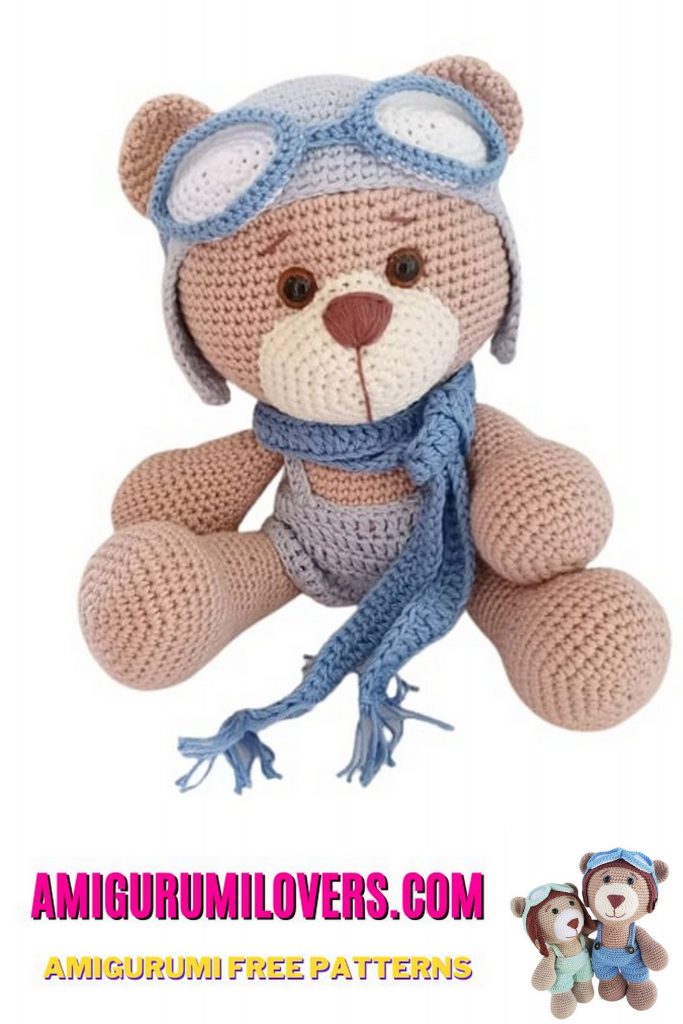 Cap (blue)
1) 6 SC İNTO MAGİC RİNG (06)
2) İNC (12)
3) 1 SC, İNC (18)
4) 2 SC, İNC (24)
5) 3 SC, İNC (30)
6) 4 SC, İNC (36)
7) 5 SC, İNC (42)
8) 6 SC, İNC (48)
9) 7 SC, İNC (54)
10) 8 SC, İNC (60)
11) 9 SC, İNC (66)
12) 10 SC, İNC (72)
13 UNTIL 22) WORKING IN SC THROUGHOUT CAREER (72)
23) WORKING ROUND TRIP ONLY 9 PTS FOR 3
CARR IN THE FOLLOWING CARR MAKE A DEC AT THE BEGINNING AND AT THE END, UP TO 3 PTS CONTINUE ON CARR 27 SC, REPEAT SEQUENCE 9 PTS AND MAKE THE REMAINING 27 SC
24) WORKING IN SC IN ANY CAREER
CLOSE